Los Angeles 2019: BMW and its Cavalcade of New Products
Author: Benoit-Charette
Published: 11/21/2019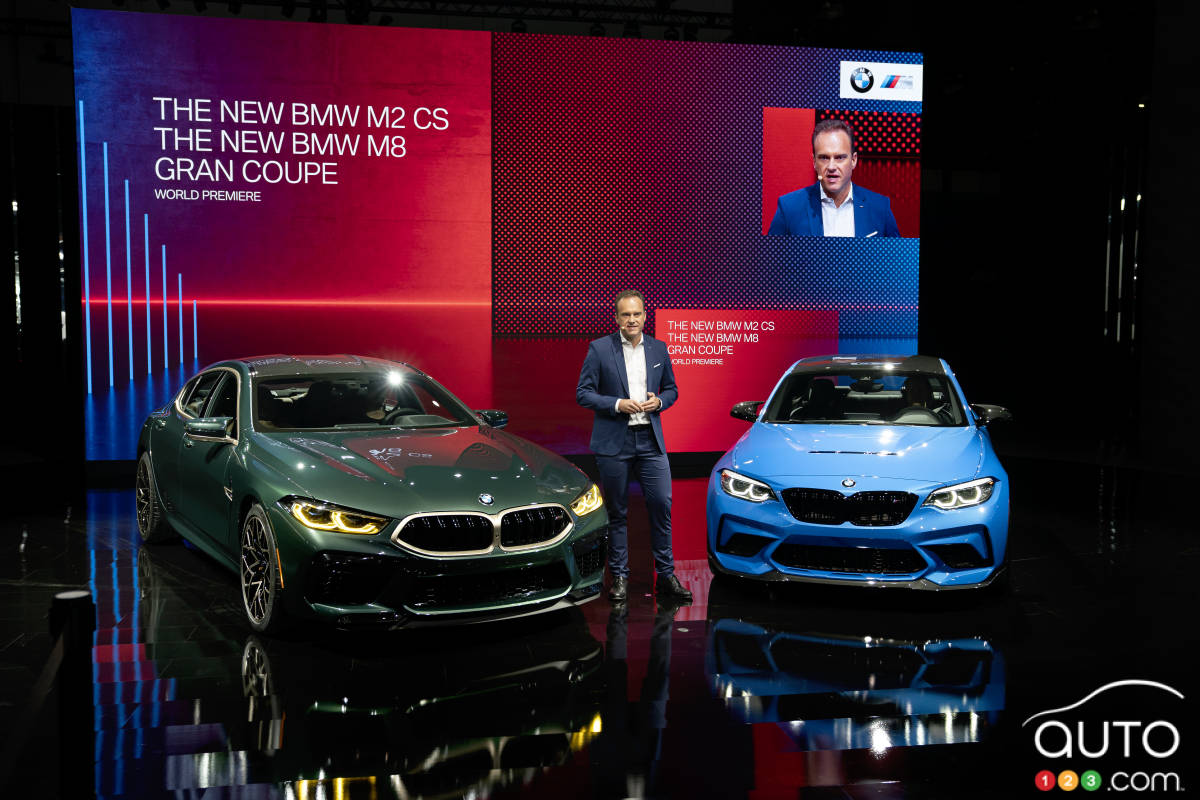 Los Angeles 2019: BMW and its Cavalcade of New Products
The BMW Group used the occasion of the Los Angeles Auto Show to present a long list of new products, from the return of the X5 M and X6 M with 600 horses and the world premieres of the 2 Series Gran Coupe and M8 Gran Coupe to the new Mini John Cooper Works GT with 301 hp, not to mention the Mini electric SE. Oh, and the BMW M2 CS!
Most powerful Mini to date
Recently introduced in the JCW Clubman, the 301-hp 2.0L turbo engine has migrated into the Cooper version, the Mini John Cooper Works GP. Able to accelerate to 100 km/h in 5.2 seconds, the new two-seat GP based on the Mini 3-door will be a very limited edition. Only 3,000 copies will be produced worldwide and just 59 units of those will find their way to Canadian dealerships at an advertised price of $51,900. The models will be individually numbered from 0001 to 3,000.
An electric Mini
At the other end of the spectrum, Mini has confirmed the return of the 2020 Mini electric 3-door. Announced at $39,900, the EV is eligible for the federal government's $5,000 rebate and, in Quebec, the $8,000 provincial incentive.
It's powered by an electric motor with an output of 184 hp and 199 lb-ft of torque capable of accelerating from 0 to 100 km/h in 7.3 seconds. The 93-amp/h lithium-ion battery, with a gross power of 32.6 kWh, will offer a range of between 185 and 200 km. The Mini can be recharged on the CCS Combo DC 50-kW fast-charging stations, which should enable regaining a range of between 130 to 145 km in half an hour.
BMW 2 Series Gran Coupe
BMW presented its most recent 2 series in a world premiere at the Los Angeles show. The Gran Coupe takes on a style adopted by other recent models in the BMW family. Its slender silhouette with wider shoulders and frameless side windows gives it an elegant sporty appearance. You also have 430 liters of trunk space. Market launch is set for March 2020 and the new model will be produced at BMW's plant in Leipzig, Germany.
Read more