Comparison: 2023 Mazda CX-50 vs 2022 Mazda CX-5
Author: Auto123.com-
Published: 8/23/2022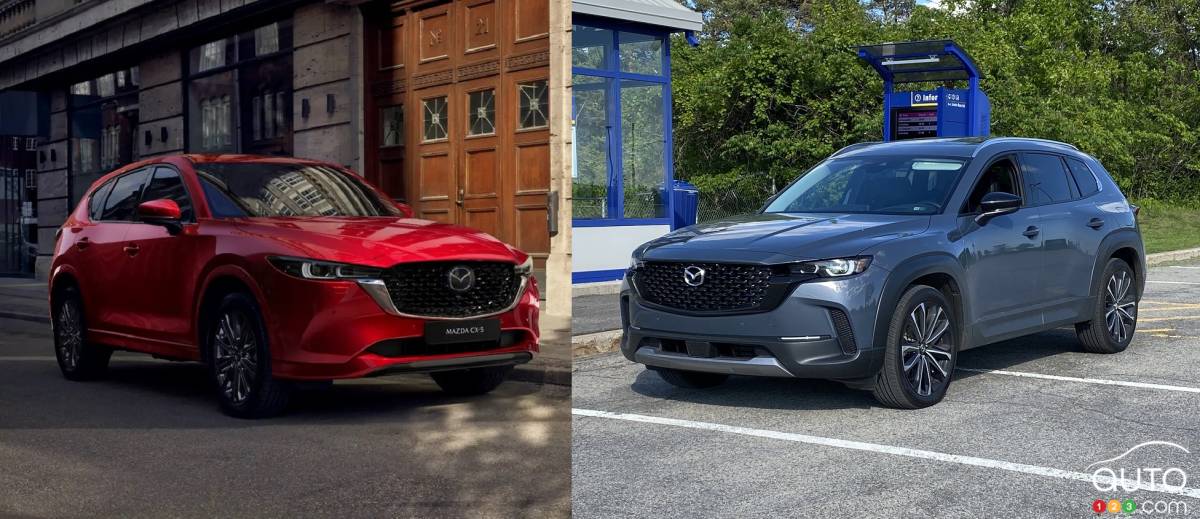 Comparison: 2023 Mazda CX-50 vs 2022 Mazda CX-5
This summer we had the opportunity to get behind the wheel of the CX-50 and then right after, the 2022 CX-5 Sport. Under their shells, the two vehicles may seem identical, but we wanted to see if the CX-50 is more than just a disguised version of the already-very-good CX-5.
The 2023 Mazda CX-50 versus the 2022 CX-5
Let's be clear, the CX-50 is not a bloated or modified CX-5 adapted for off-roading. The newest member of the Japanese brand's family of SUVs uses the company's latest platform used for the CX-30 and Mazda3, though of course it's wider and longer than those vehicles. Mazda has also improved the suspension so that it's strong and absorbent enough to handle rougher terrain.
Most importantly, its exterior shell is designed to withstand that rougher, more so anyways than the CX-5, built more for the city and the paved highway.
Browse cars for sale available near you
Different on the outside?
From a distance, the CX-50 looks pretty much like the CX-5; to the uninitiated eye, there's not much difference. But the Mazda connoisseur will notice some extra curves above the wheels and the plastic that surrounds the entire lower body, as well as the headlights that adopt a new design specific to the newest crop of Mazda models.
Read more